Bonjour mes amis 🙂
Okay, that's as far as my french goes currently. Welcome to TPC's Paris guide. In this post I will share my favourite hotels, spots, and restaurants. My most asked question when I travel is 'where did you stay' and I understand why because a fantastic hotel truly sets the vibe of any holiday. I appreciate hotels that are aesthetically pleasing and have fantastic service. Most hotels will be 5* but in the event that they aren't (because they're asking for my right arm in terms of costs) I will share a 4* hotel that offers a 5* vibe.
Let's kick off shall we?
Hotels
La Demeure Montaigne
Location: 8th arrondissement
Click here to see the hotel in more detail
Why
–  5* hotel with great ambiance and service
–  The decor is exquisite particularly within the rooms. Each room has gorgeous floral wallpapers that gives the space character
–  Location is excellent and it's close to lots of shops
–  They have exceptional attention to detail. For example prior to our arrival the hotel ensured that there were enough products for everyone in our party (we were 3 and usually hotels will only give 2 of each item)
–  The restaurant and bar near the lobby are both gorgeous! They're excellent for pictures too.
Costs
It's a little expensive (i.e. ~£500 per night) but in contrast to other well known 5* hotels (Four Seasons, The Peninsula etc) it is significantly cheaper hence, it's a steal 😉
Hotel Montalembert
Location: 6th arrondissement
Click here to see the hotel in more detail
Why
–  5* boutique hotel with great service
–  It's super cosy and tasteful
–  The rooms are very spacious which is hard to find in Paris
–  Location is amazing! It's on left bank which is a lot more chill and super luxurious. It's also located in Saint-Germain known as one of Paris' most expensive areas
–  It's located beside the famous restaurant L'Atelier de Joel Robouchon, which as far as I'm concerned has the best mashed potatoes I've ever tasted in my life. However, tread cautiously because by the time the bill came I died a thousand deaths and had to be resurrected
Costs
Competitive price (i.e. ~£350-500 per night) but it can be significantly higher in peak seasons
Hôtel National Des Arts et Métiers
Location: 3rd arrondissement
Click here to see the hotel in more detail
Why
–  4* hotel with a cool rooftop which offers amazing drinks, perfect after a long day of shopping!
–  Great for solo travellers and young couples who crave affordability and don't want to compromise on aesthetics
–  Close to the train station which makes getting around super easy
–  Clean and chic decor plus the lobby had a gorgeous green space making it ideal for people to chill, work and relax
–  They have an indoor restaurant and also offer drinks outside the hotel making it deal for people-watching
Costs
Affordable (i.e. ~£190 – £205 per night)
Some Favourite Restaurants
–  Girafe: exceptional views of the Eiffel tower and the food is fire! However, getting a reservation involves gymnastics. I recommend outdoor seating in the summer to fully appreciate the restaurant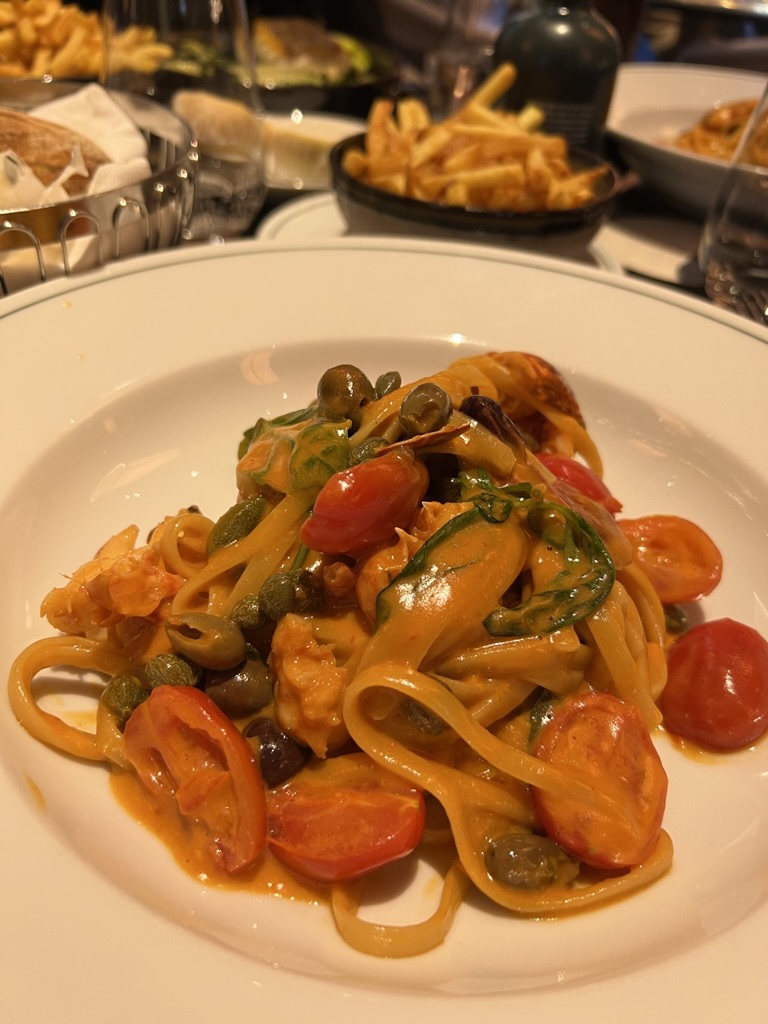 Seafood Pasta, Girafe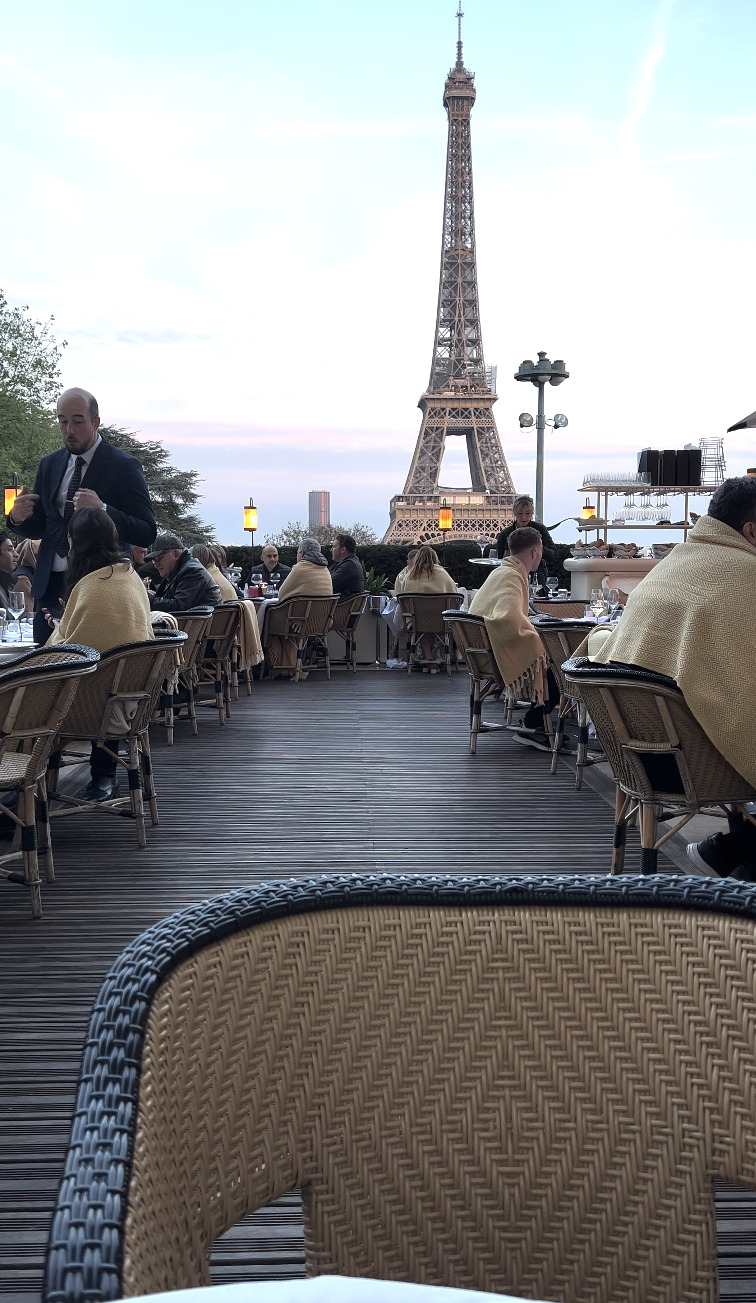 The view at Girafe, Paris
–  CoCo: great food and they have live music in the evening which totally adds to the vibe.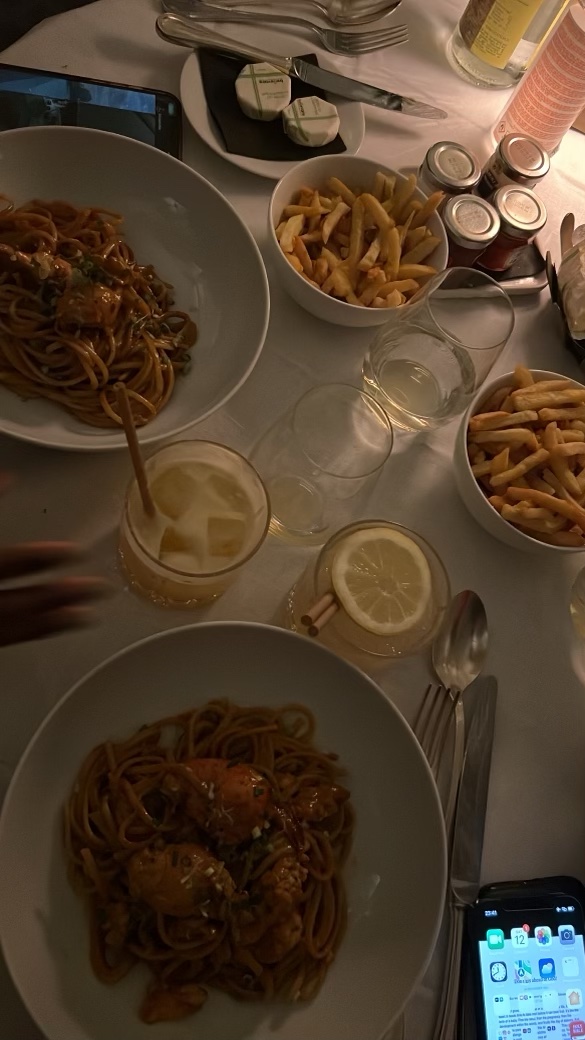 Lobster pasta avec frites at CoCo
–  Lou Lou: delicious food with views of the Eiffel Tower. If its not too chilly I recommend sitting outdoors, it's way more beautiful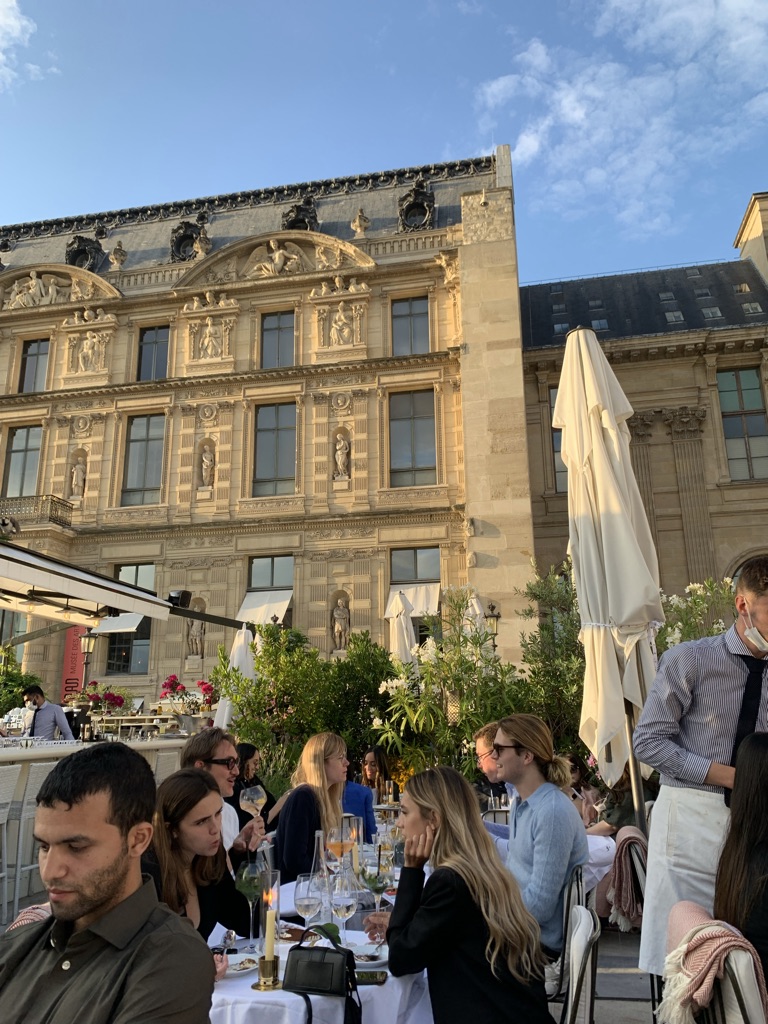 Lou Lou restaurant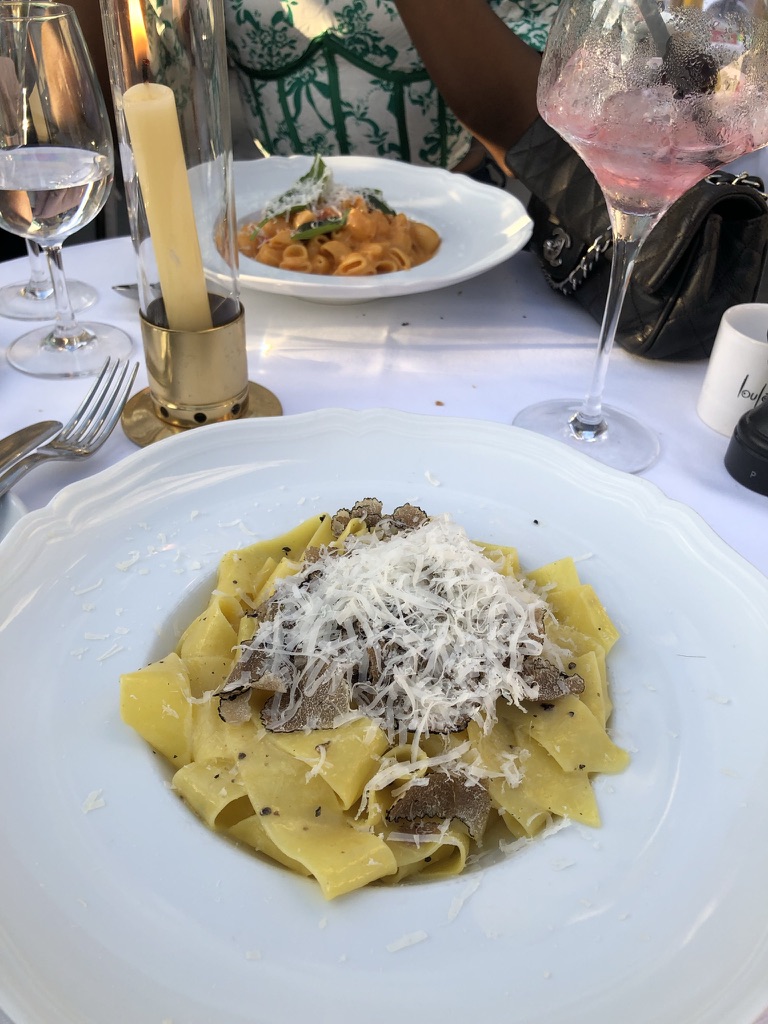 Pasta at Lou Lou restaurant
–  Angelina: great for patisserie and don't forget to try their hot chocolate! It's also a great place to pick up sweet treats for love ones
–  La Relais L'Entrecote: steak and chips in France is always a good idea so if you're craving something yummy and simple this is always a good idea
–  L'Atelier de Joel Robouchon: great for a celebratory meal! But tread carefully, it's not for the faint hearted ($$$)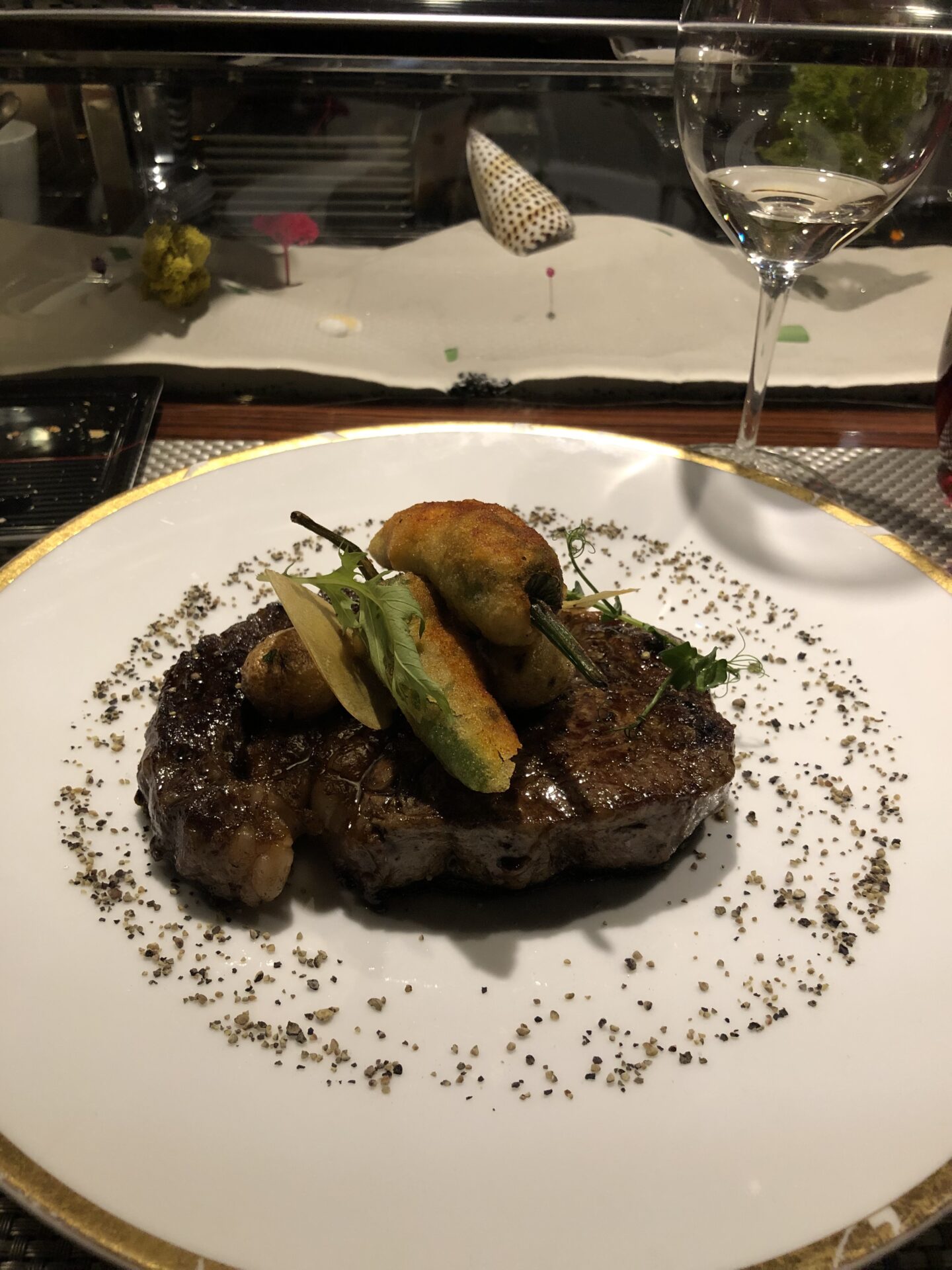 Steak at Joel Robouchon
Things to do
Culture and Museums
–  Versailles: less than an hour's train ride from the centre of Paris but it's definitely worth it. Spend the day soaking up the architecture, art and gardens. They usually have fireworks in the summer and it's breathtaking. Be sure to book tickets!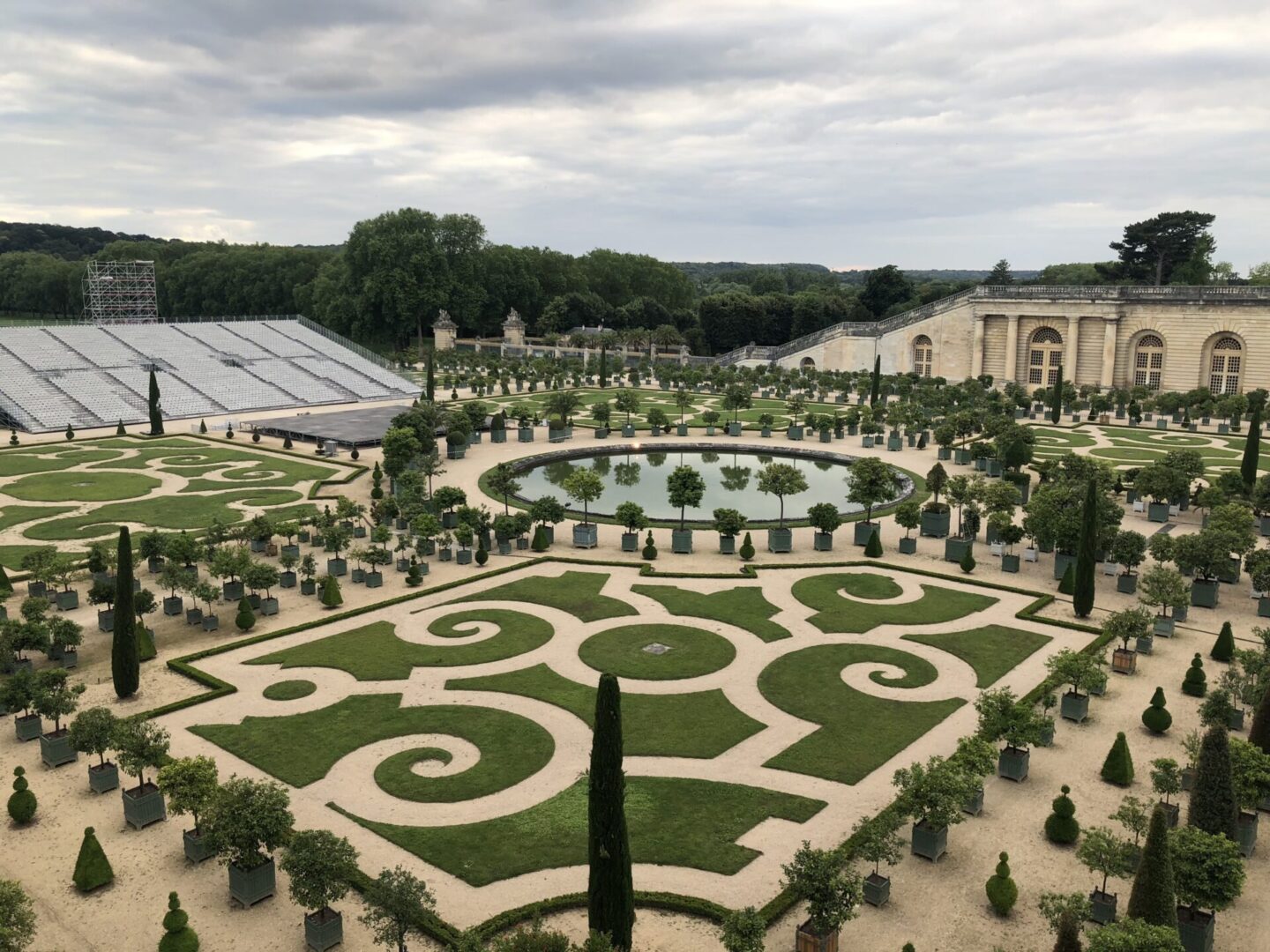 The Gardens at Versailles
–  Louvre Museum: this is as grand is it gets when it comes to museums. The Louvre is huge and absolutely gorgeous. There are always lots of ongoing exhibitions so be sure to check out whats on before you go. There's also an underground shopping mall so if you get bored of history there's always shopping to cheer you up
–  Musée d'Orsay:  previously an old train station and holds notable pieces from artists like Van Gogh and Edouard Manet
Shopping et al
–  Vintage shops: who doesn't love rare designer pieces? Search for nearby vintage shops near you to get a treat before heading home
–  La Vallée Village: an outlet shopping mall with discounts on designer pieces. It's less than an hour from the centre of Paris with lots of cool shops
–  Walk along the Seine and visit Jardin du Luxembourg: what's more Parisian than a pastry in hand and a hot chocolate in another casually strolling along the Seine? Thereafter perhaps you could read a book at Jardin du Luxembourg and relax hehe
I hope this helps.
Love,
T
P.s. this post contains affiliate links.